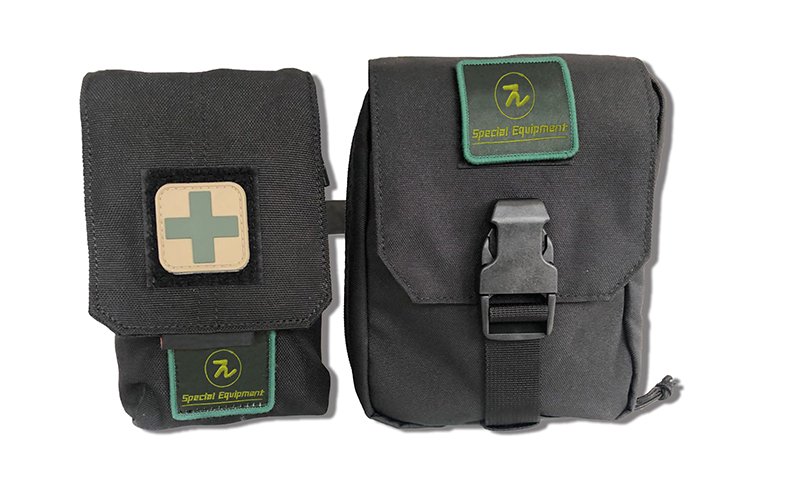 Description:
Mainly used for first aid after individual wounded, outstanding portability
Configuration: free buckle timing tourniquet, nasopharyngeal ventilation tube, C-type hemostatic dressing, elastic bandage, medical gauze bag, medical tape, medicine box, military scissors, disposable gloves, marker pen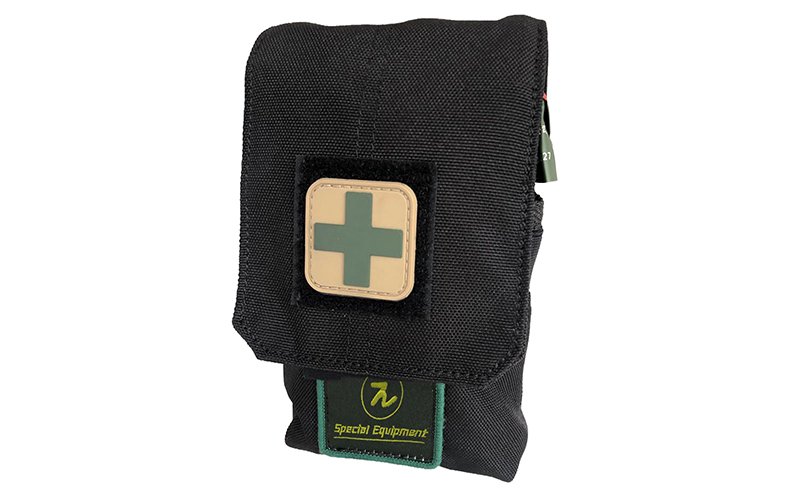 Combat application tourniquet (C-A-T) free buckle timed tourniquet/spinning tourniquet (mainly used for extremity arterial hemostasis)
New single routing buckle for faster application, decreased blood loss, effective slack removal, fewer windlass turns, and simplified training with single protocol application standards

Reinforced windlass rod with increased diameter for enhanced strength and aggressive ribbing for improved grip

Bilateral windlass clip for rapid windlass lock and bilateral buttress for added strength

Reinforced stabilization plate with beveled contact bar

Signature red elliptical tip (red tip technology) provides visual cue during application

Patented free-moving internal band for true evenly distributed circumferential pressure



Awarded as one of the 'top 10 greatest inventions by the U.S. army official tourniquet of the U.S. army

Used by both conventional and special operation forces

Proven to be 100% effective in occluding blood flow in both upper&lower extremities by the U.S. army's institute of surgical research

True, one-handed application tourniquet

Quickly controls life-threatening extremity bleeding

Recommended by the committee on tactical combat casualty care

Designed to perform in all weather conditions

Small and cost-effective

Protected by U.S. patent nos. 7,842,067 and 7,892,253



Nasopharyngeal airway with lubricant Nasopharyngeal airway (into the patient's pharynx through the nasal cavity to keep the patient's breathing unblocked)
Not easily dislodged during transport

Better tolerated than an oropharyngeal airway be semi-conscious or unconscious patients with an intact gag reflex

Packaged with surgical lubricant attached
Needle decompression thoracic puncture needle (used for decompression and exhaust of thoracic cavity of patients with pneumothorax)
Strong, reliable needle/catheter: 14 gauge*3.25in

Rugged needle/catheter protective tube

Easy-open container for quick access featuring easy ID textured twist top with handy clip

Capless flash chamber for immediate confirmation of needle placement

Convenient, compact size
Hyfin chest seal (used in conjunction with thoracic puncture needles to seal open wounds on the injured chest)
Completely occlusive dressing for the treatment and management of an open chest wound caused by a penetrating trauma

New, more compact packaging

Advanced adhesive technology

Oversized red elliptical tab for single step, easy peel-and-adhere application

Conforms to the casualty's chest

Effective in extreme environments

Seal can be written on for patient treatment documentation if necessary

Latex-free
Hyfin vent chest seal-individual
For the prevention, management and treatment of an open and/or tension pneumothorax potentially caused by a penetrating chest trauma

New, more compact packaging

Patented, new design with 3-channel pressure relief vents

Advanced adhesive technology for a superior seal in the most adverse conditions, including sweaty or hairy casualties

Easy-to-grip, large red tab for single step, peel-and apply application that allows for the burping of the wound if necessary
Emergency trauma bandage(type C)
Used for bandaging, pressure hemostasis and fixing after injury

Used for bandaging and compression to stop bleeding after injury
Used for packing hemostasis in deep wound

Suitable for filling deep wounds to stop bleeding
Wrap and fix by dressing wound or binding body

Used to provide binding force on wound accessories or limbs to play a role of bandaging and fixing.

Open and take out the product.

Wrap and fix the bandage in needed parts.



Single use store in dry, ventilated, no corrosive gas environment.

Keep away from combustion source or combustible goods.

Cannot touch with trauma with trauma surface directly.

Wrap proper tightness. Too tight will affect blood circulation.
Premium -grade stainless steel with precision sharpness

Enhanced serrated lower edge cuts through the toughest materials

Clothing -lift lip and rounded tip for ultimate patient

Soft-grip, non-slip contoured handles for maximum control even when wet